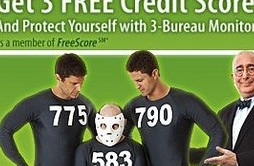 From: Greg Fisher 
Sent: Thursday, March 31, 2011
To: Rob Wyse, Media First Public Relations
Cc: Caitlin Senior, Media First Public Relations
Subject: RE: credit score, employers, FreeScore.com VII
See this message and your reply at http://blog.creditscoring.com/?tag=freescorecom.
Yesterday, you wrote: "Said [a school teacher], 'While every person might not use much of what they learn in Algebra 2 and Calculus throughout their life, every person must understand credit scores. Good credit and good credit scores can be the key to the future for students in getting a loan, and even getting a job.'"
Also, your September 8, 2009 press release states:  "'Credit scores and credit reports play a much bigger part in your finances than most people know,' says FreeScore.com spokesperson Rob Wyse. 'Poor scores can cost you a higher interest rate, a job, or even a place to live. That's why it's so important to see where your credit stands and to make sure the information in your credit files is accurate.'"
What evidence suggests that employers use credit scores?
—
Greg Fisher
The Credit Scoring Site
creditscoring.com
PO Box 342
Dayton, Ohio  45409-0342