In planning another whistle stop trip, the train to Lincoln (California Zephyr) seems feasible.  But terminating in the capital and bypassing Nebraska's nearby major city means foregoing another opportunity to experience what appears to be a majestic large public space in Omaha, the Union Passenger Terminal Great Hall.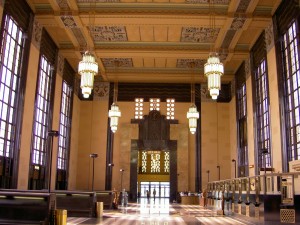 The manager of the Lincoln Marriott, however, makes staying in the capital city, at least, a comfortable choice (assuming the senator does not reply).
Getting to North Platte?  That's another story.
From: Greg Fisher [mailto:greg@creditscoring.com]
Sent: Thursday, February 21, 2013 1:09 PM
To: Annette Dubas, state senator, Nebraska
Subject: credit score, employers, Nebraska Unicameral Legislature
A report quotes you saying, "The use of a credit score in job applications has an especially negative impact on women, the disabled, and certain populations such as Hispanic and African Americans because their scores tend to be lower."
Employers do not use credit scores.
What will you do to correct the record?
—
Greg Fisher
The Credit Scoring Site
creditscoring.com
PO Box 342
Dayton, Ohio  45409-0342